text.skipToContent
text.skipToNavigation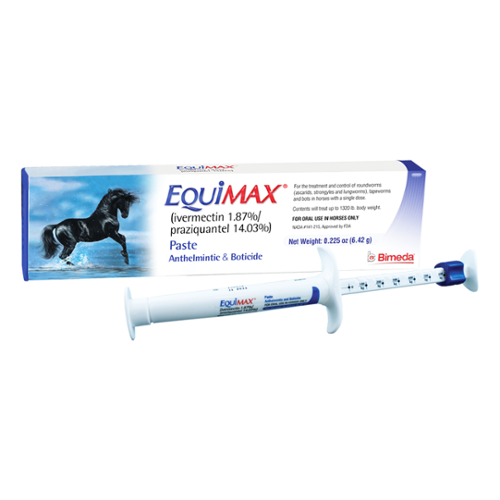 Product Description
Equimax is an all-in-one dewormer that combines ivermectin and praziquantel to safely and effectively rid horses of all major internal parasites, including tapeworms, in a single dose.
Product Information
Manufactured by Virbac Animal Health, distributed by Bimeda, Inc.
Active Ingredients
Ivermectin, Praziquantel
Directions for User
The content of a single oral syringe is sufficient to treat horses up to 1,320lbs at the recommended dose rate of 91mcg per pound. Each weight marking on the oral syringe plunger delivers enough paste to treat 220lbs of body weight. Foals should be treated initially at 4 weeks of age, and routine treatment repeated as appropriate.
Special Precautions
Equimax Paste is for use in horses and ponies 4 weeks of age and older. This product should not be used in other animal species as severe adverse reactions, including fatalities in dogs, may result. Do not use in horses intended for food purposes. This product is not intended for use in humans. Do not smoke or eat when handling this product. Wash hands after use. Avoid contact with eyes. Keep out of reach of children.